TikTok Pro Account: How to Switch To Pro Account on TikTok
TikTok Pro account?
If you are wondering what a TikTok Pro account is and how to switch to it or sign up with it, read this post.
We will uncover just that and without writing thousands of words on it.
Without further adieu, let us dive in.
What Is a TikTok Pro Account
Pro account on TikTok is similar in a lot of ways to the personal account. However, there is actually one big difference. TikTok Pro offers Analytics that you wouldn't otherwise get with a personal one.
Analytics has three aspects to help the creators to better understand their audience. The first one is the overview where there is general information about the audience.
The next is about the content, and what content is getting the most engagement, and which videos are trending.
The last "followers" section gives information on followers and their details like geolocation, age, etc.
This helps the Pro account owners to better understand their audience and appeal to the target audience.
This is shortly about what is a TikTok Pro account. There is not much to talk about except to teach you how to sign up for a Pro account or switch to it if you have a regular account.
Does a TikTok Pro account Cost Anything?
If you are wondering about the price or the cost it may have. The TikTok Pro account doesn't cost a dime.
It is free for all users of the app. In the future, they might come up with a charge, which seems like something that they are planning to do. However, so far this is not the case.
How to Get TikTok Pro
To get TikTok Pro there are just three steps you should follow.
1. Start by opening the Privacy and Setting tab
2. Choose the "Manage My Account" option.
3. Tap "Switch to Pro Account" and complete the further smaller steps.
This is not the end, the further smaller steps will ask you to choose a category and stuff. But, you are definitely going to figure it out easily.
Because, the platform is most popular among Gen-zs and you guys are born with technology in hand so that should not be difficult.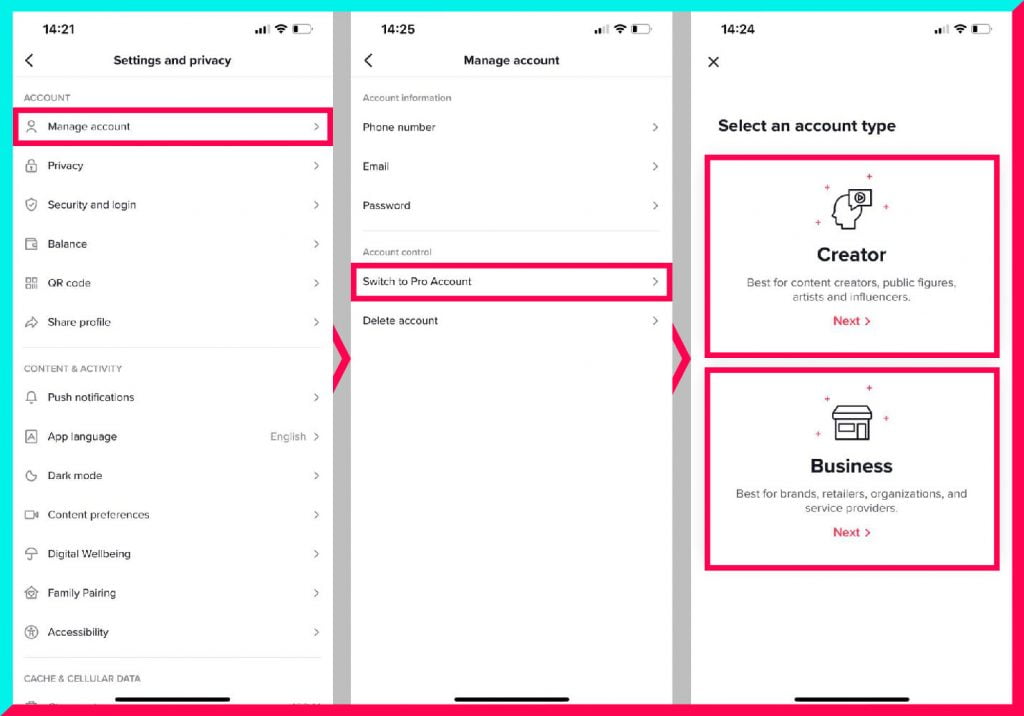 How to Switch to a Pro Account on TikTok and Back
Well, switching back to a personal account is no different than switching to the Pro account.
You even follow the same steps and tap on the same words, but except for when you tap on, switch to a Pro account.
Because there will be different writing showing "Switch to a Personal Account".
Why would you want to go back if you already have a Pro account?
Tiktok Money Calculator
Well, one reason is that we also have such an analytics tool and it is also free – TikTok money calculator.
This tool allows you to get statistics on engagement rate, and the most shared and liked videos and other necessary information like earning estimates.
The best way to use TikTok Money Calculator is just by entering your username and getting all that needed information hustle-free.
It leaves no need to interpret the data from the TikTok Pro account.
To wrap up
With that information being uncovered, it is time to wrap up the piece. Remember the Pro account on TikTok is basically the same user account with additional Analytics features.
There is no price associated with it. You can switch between the Pro and the personal accounts without any issues now.